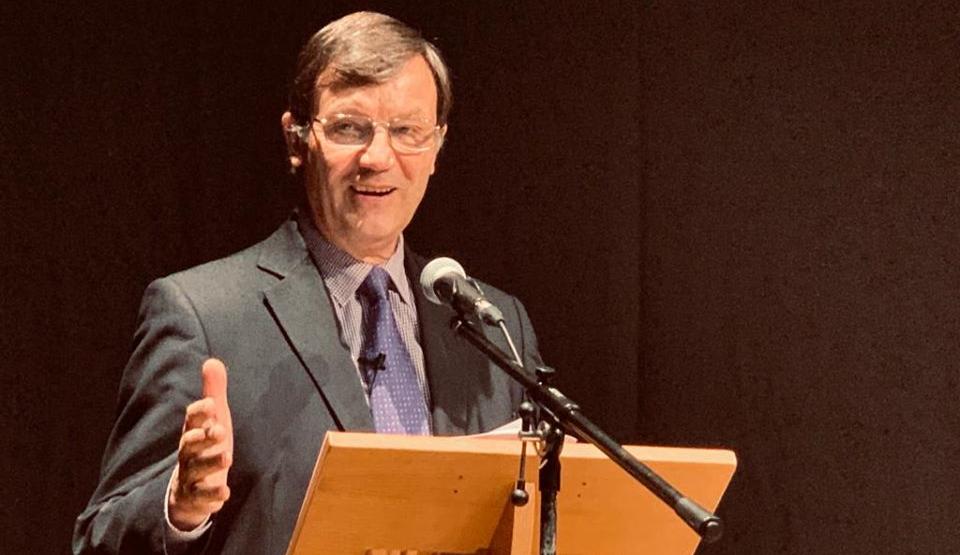 Michael Smith is a British freelance journalist, author and lecturer on values in business and the economy.
His articles have appeared in The Financial Times, The Guardian and Guardian Weekly, The Times, The Independent, The Scotsman, The Herald, Glasgow and The Pioneer, New Delhi. He is the author of four books on ethical values in business and the economy: Beyond the Bottom Line (2000, now out of print); Trust and Integrity in the Global Economy (2007); Great Company (2015); and Leading with Integrity (2019).
Born in Bradford, Yorkshire, he was educated at the Nautical College, Pangbourne (now Pangbourne College), in Berkshire.
He has been associated with the global programme of Initiatives of Change (IofC) since the 1960s and has been a regular participant in the annual IofC summer conference in Caux, Switzerland, for over 50 years.
He worked for three years in India in the early 1970s where he was the production manager of Himmat newsweekly in Mumbai. He has made many visits to that country since then, including to the Asian centre of IofC in Panchgani, Maharashtra.
Returning to the UK, he cut his teeth in journalism at the shop floor paper The Industrial Pioneer.
He married Jan Bouch, a graphics designer, in 1981 and they lived in Wimbledon, south-west London, for 37 years. They spent a year with Initiatives of Change in the United States, 1984-1985.
He was a founder and co-editor of the international bimonthly magazine For A Change published by IofC in London, from 1987 to 2006. This also gave him the chance to write for national newspapers.
He was Head of Communications and then Head of Business Programmes at Initiatives of Change UK from 2010 to 2017. He and his team ran events on Trust and Integrity in the Global Economy (TIGE) which became known as the TIGERoadshows. These day-long events were delivered mostly to business schools around the UK. At the same time he was on the organizing team of annual TIGE summer conferences in Caux, Switzerland, which ran for 10 years.
He has given lectures on Pillars of Trust in the Economy to business schools in the UK, Scandinavia (Copenhagen and Stockholm), Latvia, India (Pune and Chandigarh), Sri Lanka and Australia. In 2017, he was the opening keynote speaker at the annual international Businet conference of some 200 business lecturers, held in Vilamoura, Portugal.
Mike has written over 60 obituaries for British national newspapers.
He and Jan now live in a picturesque Surrey village near Dorking, south of London. They have two adult children and two grandsons.